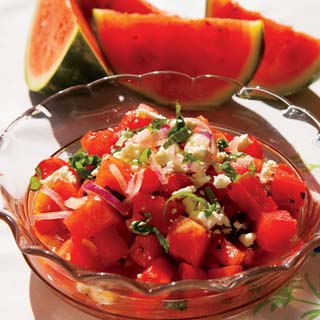 Two favorite summer flavors, watermelon and tomato, mix with red onions, basil, lime juice and feta cheese for a fruit salad that tastes like summer.
Makes:

6 cups (4 servings of 1½ cups each)

Prep Time:

10 minutes

Difficulty Rating:

Easy



Nutrition Highlights:

Feta cheese adds salty flavor to the sweet watermelon and tomatoes.



Recipe Created By: Kim Galeaz
Recipe From: My Indiana Home
Ingredients
4 heaping cups 1-inch watermelon chunks, seeds removed
1 ½ cups tomatoes, chopped or grape tomatoes, halved
½ cup red onion, quartered and thinly sliced
¼ cup fresh basil, chopped
1 ½ tablespoons extra virgin olive oil
3 tablespoons fresh lime juice
¼ teaspoon freshly ground salt
¹⁄₈ teaspoon freshly ground black pepper
½ cup crumbled feta cheese
Instructions
Combine watermelon cubes, tomatoes, red onion and basil in a large bowl.
Whisk olive oil, lime juice, salt and pepper together in a small bowl. Pour over watermelon mixture. Toss lightly.
Sprinkle feta cheese over salad and serve immediately. Refrigerate leftovers.
Nutrition Facts (per serving): Calories – 159, Fat – 9.6g, Dietary Fiber – 1.7g, Protein – 4.3g, Vitamin A – 21%, Vitamin C – 49%, Calcium – 11%
**Nutrition information is calculated using an online calorie calculator. Variations may exist. Values are based on a 2,000-calorie diet.
Tips & Notes
You can advance prep the watermelon, onion and tomatoes and refrigerate. Just add dressing and feta right before serving to prevent salad from getting too soggy.