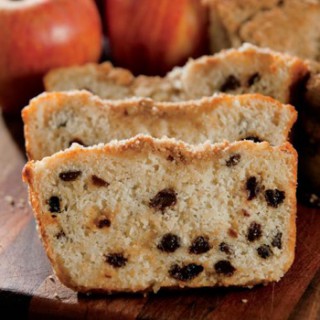 This moist dessert bread uses fresh apples and crunchy nuts for texture.
Makes:

1 loaf

Prep Time:

20 minutes

Cook Time:

1 hour

Difficulty Rating:

Easy



Nutrition Highlights:

Apples are rich in quercetin, an antioxidant to fight Alzheimer's disease and certain cancers and contain cholesterol-lowering soluble fiber.



Recipe From: Tennessee Home & Farm
Ingredients
½ cup butter, softened


1 cup sugar

2 eggs
½ cup buttermilk or sour milk*

1 teaspoon vanilla

2 cups all-purpose flour

2 teaspoons baking powder

½ teaspoon salt

2 cups apples, shredded and peeled (about 4 medium apples)

½ cup raisins, optional
Streusel-Nut Topping
½ cup brown sugar, packed


3 tablespoons all-purpose flour

2 tablespoons butter

½ cup walnuts or pecans, chopped
*To make ½ cup sour milk, place ¾ teaspoons lemon juice or vinegar in glass measuring cup. Add enough milk to make ½ cup total liquid, and stir. Let mixture stand for 5 minutes before using.
Instructions
Preheat oven to 350 degrees.

Grease the bottom and ½-inch up the sides of a 9-by-5-by-3 inch loaf pan; set aside.

In a large bowl, beat butter with an electric mixer on medium-high speed for 30 seconds. Beat in sugar until combined. Add eggs one at a time, beating well. Add vanilla; beat until combined. In a separate bowl, combine baking powder, flour and salt. Slowly add flour mixture to egg mixture incrementally; beat until just combined. Add buttermilk; beat until combined. Stir in apples, nuts and raisins. Spoon batter into prepared pan and spread evenly.

To make the topping, combine brown sugar with flour in a small bowl. Using a pastry blender, cut in butter until mixture resembles coarse crumbs. Stir in nuts.

Sprinkle topping over batter. Bake 1 hour or until a toothpick comes out clean. Cool in pan on wire rack for 10 minutes. Remove from pan. Completely cool on wire rack. Wrap and store overnight before slicing.