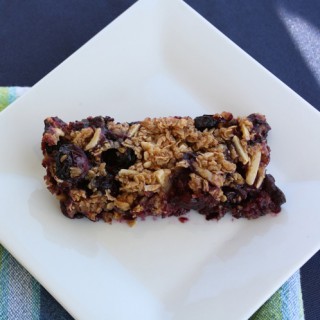 A delicious on-the-go breakfast or healthy midday snack for the kids. My 2 ½ year old says they taste like blueberry pie – yum!
Makes:

12-14 servings

Prep Time:

10 minutes

Cook Time:

40 minutes

Difficulty Rating:

Easy



Nutrition Highlights:

Blueberries have just 80 calories per cup and no fat. Plus, they're an excellent source of dietary fiber, manganese and antioxidants such as vitamin C.



Recipe Created By: Denise Sawyer / Georgia Blueberry Commission
Ingredients
½ cup honey
¼ cup brown sugar, firmly packed
3 tablespoons butter, plus extra for buttering your pan
1 tablespoon cinnamon
1 ½ cups quick-cooking oats
2 cups of fresh Georgia blueberries
½ cup slivered almonds
2 teaspoons vanilla
Instructions
Preheat oven to 350 degrees. Butter a 9-by-9-inch pan and set aside.
Mix together the honey, brown sugar, butter, and cinnamon in a sauce pan. Bring to a boil and allow to boil for about 2 minutes. Stir in the vanilla and remove from heat.
In a separate bowl, mix together oats, almonds and Georgia blueberries. Pour the hot liquid ingredients over the dry ingredients and stir carefully until all the ingredients are mixed well.
Pour the granola mixture into the buttered dish. Press the ingredients down tightly into the pan with a buttered piece of parchment or wax paper (so that it won't stick). Bake in the preheated oven, uncovered, for 40 minutes.
Cool completely. Cut into 12 to 14 granola bars.
Nutrition Facts (per serving): Calories – 159, Fat – 5.6g, Dietary Fiber – 2.4g, Protein – 2.5g.
**Nutrition information is calculated using an online calorie calculator. Variations may exist. Values are based on a 2,000-calorie diet.