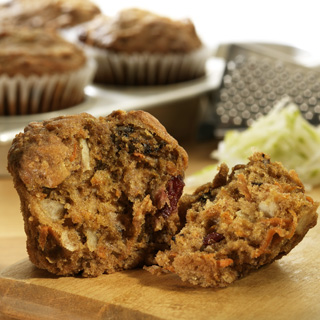 Bake these hearty fall muffins for a filling breakfast or afternoon treat.
Makes:

12 muffins

Prep Time:

20 minutes

Cook Time:

35 minutes

Difficulty Rating:

Easy



Nutrition Highlights:

Get your daily fill of vitamin C from the pears in this recipe and healthy antioxidants from the carrots.



Recipe Created By: Pear Bureau Northwest
Ingredients
1 cup all-purpose flour

1 cup whole wheat flour

¾ cup granulated sugar

2 teaspoons baking soda

1 teaspoon salt

2 teaspoons cinnamon

1 large firm, ripe pear (about 1¼ cup grated)
1¾ cups carrots, grated
½ cup dried cranberries
½ cup toasted walnuts, coarsely chopped, optional

½ cup unsweetened coconut

⅔ cup vegetable oil

3 eggs

1 teaspoon vanilla
SEE ALSO: Morning Glory Muffins Recipe
Instructions
Preheat oven to 350 degrees.

Line a standard-size 12-cup muffin tin with liners.

Combine all-purpose and whole wheat flour, sugar, baking soda, salt and cinnamon. Stir well or sift together if lumpy.

Whisk oil, eggs and vanilla together until slightly lighter in color.

Add wet ingredients to dry, folding gently until they are completely moistened and well distributed. Scoop batter into muffin liners

Bake 30-35 minutes or until slightly darker around edges.
Nutrition Facts per Serving: Calories – 308, Total Fat – 17.6g, Dietary Fiber-2.4g, Protein – 5.1g, Vitamin A-55%, Iron-11%.
**Nutrition information is calculated using an online calorie calculator. Variations may exist. Values are based on a 2,000 calorie diet.