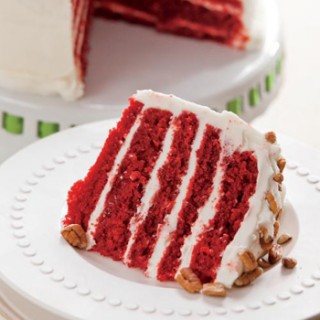 This classic Southern cake stands five layers tall and is topped with a nutty cream cheese icing.
Ingredients
1 ½ cups sugar
1 ¾ cups cooking oil
2 eggs
red food coloring
1 teaspoon cocoa powder
1 tablespoon vanilla
2 ½ cups all-purpose flour
1 teaspoon salt
1 teaspoon baking soda
1 cup buttermilk
Icing
1 cup (8 ounces) cream cheese, softened to room temperature
½ cup butter or margarine, softened to room temperature
4 cups (1 pound) powdered sugar
1 cup nuts, chopped
Instructions
Preheat oven to 325 degrees.

In a mixing bowl, cream together sugar, oil and eggs.

In a separate bowl, stir together food coloring, cocoa and vanilla. Add to sugar mixture and combine.

Sift together flour, salt and baking soda.

Add sifted ingredients alternately with buttermilk to sugar mixture. Mix well.

Pour batter into five 8-inch round cake pans coated with nonstick baking spray and flour.

Bake layers just until cake loosens from the sides of pans and the center springs to the touch, about 12-15 minutes. Do not overbake.

To make icing, mix all icing ingredients well. 

Once cake has cooled, spread icing between the layers and over top and sides of the five-layer cake.
Tips & Notes
Alternately, make a four-layer red velvet cake by using just two 8-inch cake pans and slicing them in half after they've cooled.