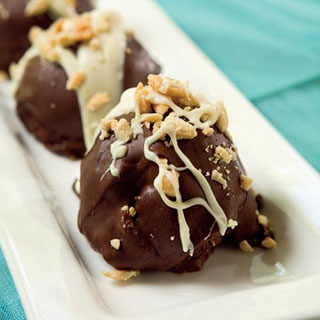 These tasty peanut butter chocolate cake balls are perfect for parties or food gifts.
Makes:

12 medium or 16 small cake balls

Prep Time:

2 hours (includes baking cake, cooling time, assembly and dipping)

Cook Time:

30 minutes (for baking cake and melting chocolate)

Difficulty Rating:

Intermediate



Recipe Created By:

Mary Carter

Recipe From: Tennessee Home & Farm
Ingredients
1 yellow cake, prepared according to package instructions, baked and cooled

¾ cup water

¾ cup sugar

¾ cup peanut butter
2 cups semisweet chocolate chips

½ cup white chocolate chips

1 cup salted peanuts, chopped

12-16 decorative cupcake liners
Instructions
In a medium saucepan, bring water and sugar to a boil. Reduce heat and simmer until sugar is dissolved. While still warm, stir in peanut butter. Whisk until evenly blended.

When cool enough to handle, stir into cake. With clean hands, mix liquid into cake until very well (and evenly) moistened.

With a medium-size ice cream scoop, spoon cake mixture onto a parchment-lined cookie sheet. This should yield about 12 large or about 16 medium-sized cake balls. Freeze until well set, about 1 hour.

Melt semisweet chocolate in microwave on low setting until just melted. Carefully pick up and coat each cake ball with chocolate; set in cupcake liners. (There isn't a neat way to do this, so be prepared for some dripping and clean-up.)
Melt white chocolate and drizzle over the top of each cake ball. Quickly sprinkle chopped peanuts on top before chocolate hardens.
Tips & Notes
Add your favorite food color to the cake for holidays and special occasions.