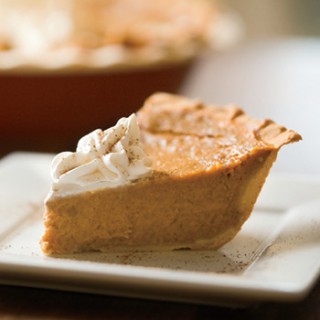 For a twist on the traditional pumpkin pie, try this similar dessert that is made with butternut squash.
Makes:

8 servings

Prep Time:

25 minutes

Cook Time:

50 minutes

Difficulty Rating:

Easy



Nutrition Highlights:

Butternut squash is brimming with the carotenoid vitamin A, which helps support healthy skin and eyes.



Recipe Created By: Charlyn Fargo
Recipe From: Illinois Partners
Ingredients
1½ cups butternut squash, peeled and cubed
1 cup brown sugar, lightly packed
1 tablespoon cornstarch
1 egg, beaten
1 cup evaporated milk
1 teaspoon ground cinnamon
¼ teaspoon ground allspice
¼ teaspoon ground cloves
¼ teaspoon ground ginger
¼ teaspoon ground nutmeg
1 (9-inch) unbaked pie shell
Instructions
Place squash in saucepan with enough water to cover. Bring to a boil, and simmer over medium heat until tender, about 15 minutes. Drain and cool.
Preheat oven to 350 degrees.
In a blender or food processor, combine squash, brown sugar, cornstarch, egg, milk, cinnamon, allspice, cloves, ginger and nutmeg. Process until smooth. Pour into the unbaked pie shell.
Bake for 50 minutes, or until a table knife comes out clean when inserted in center.
Tips & Notes
If you're in a hurry, stick the squash in the refrigerator or freezer to help it cool down faster.