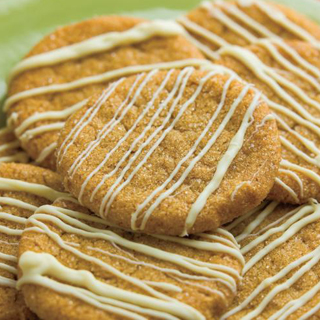 Our decadent take on classic gingersnap cookies calls for them to be drizzled with sweet white chocolate.
Instructions
Preheat oven to 350 degrees. Line baking sheet with parchment paper.
Whisk flour, baking soda, ginger, cinnamon and salt in large bowl. Beat sugar and canola oil in another large bowl until pale in color, about 2 minutes. Beat in egg and molasses. Gradually stir in flour mixture.
Roll two tablespoonfuls of dough into a ball, then roll in sugar to coat. Repeat, forming about 6 dough balls. Arrange 2 inches apart on prepared baking sheet (cookies will spread). Bake until cookies are golden brown around edges and cracked on top, about 12 minutes. Let cool 2 minutes on sheet; transfer cookies to rack to cool. Repeat with remaining dough.
Stir white chocolate in top of double boiler set over barely simmering water until melted. Dip fork into chocolate and drizzle over cookies. Refrigerate until chocolate is set, about 10 minutes.
Tips & Notes
These cookies can be made a day ahead if stored in airtight container at room temperature.