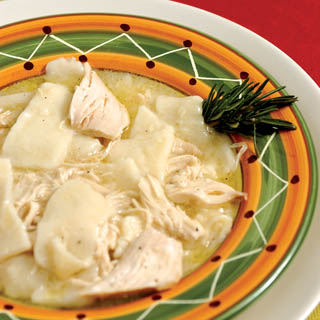 A delicious, traditional chicken and dumplings recipe that won the Down-Home Dumpling Cook-Off.
Ingredients
1 roasting hen or 4- to 5-pound fryer chicken
Just enough water to cover the chicken (too much makes a weak broth)
4 cups plain flour
¾ cup Crisco shortening
salt and black pepper, to taste
Instructions
To prepare the chicken: Cover the chicken with water. Bring to a boil. Add salt to taste.
Reduce heat to simmer and cook until falling-apart tender (usually about 1 ½ to 2 hours).
Carefully remove chicken and allow to cool. Debone chicken into strips or small chunks.
To prepare the dumplings: Into large bowl, add 4 cups plain flour and salt to taste. Stir well. Cut in the 3/4 cup of Crisco with pastry blender until like coarse cornmeal. Add enough warm (not boiling) chicken broth (usually about 1 ½ cups) to make a stiff dough. Be careful not to mix too long because it will make dough tough.
Heat remaining chicken broth to a rolling boil.
Using one-third of the dough ball, roll out to about 1/8-inch thick. Cut into thumb-length strips. Drop into hot broth. Prepare remaining dough the same using one-third of dough ball at a time.
After all dumplings have been added to broth, reduce heat to simmer. Add black pepper and simmer 15 to 20 minutes. Add chicken and stir very slowly until heated through and ready to serve.
Tips & Notes
If using a frying chicken instead of a roasting hen, you will also need to add ¾ of a stick of butter to give broth a richer flavor. Bea recommends using only the white breast of the chicken and very little of the dark.