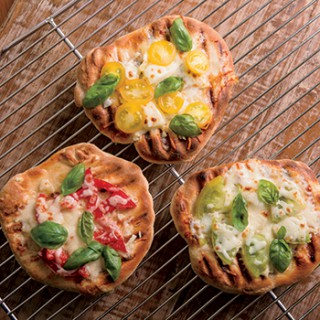 Colorful tomatoes and mozzarella cheese are highlighted by fresh basil in this perfect summer pizza recipe.
Makes:

4 servings

Prep Time:

15 minutes

Cook Time:

10 minutes

Difficulty Rating:

Intermediate



Nutrition Highlights:

Cooked tomatoes contain more lycopene than uncooked versions.



Recipe Created By: Kim Galeaz
Recipe From: My Indiana Home
Ingredients
1 pound refrigerated whole wheat pizza dough
4 teaspoons extra virgin olive oil
1 large garlic clove, peeled and cut in half
½ cup grated Parmesan cheese
2 tablespoons garlic, finely minced
2 large or 3 smaller tomatoes, thinly sliced
8-12 ounces fresh mozzarella, thinly sliced
¾ cup basil, thinly sliced (chiffonade style)
Instructions
Divide pizza dough in half. On a floured surface, roll into two 8-inch circles. Place on lightly floured baking sheet. Oil grill grates and preheat grill to medium-low heat.
Place the pizza crusts directly on grill grates. Close cover and cook 1 to 3 minutes or just until the dough puffs and bubbles up in some places and starts to become firm.
Remove crusts with tongs, turn over and place on baking sheet.
Brush each grilled side with 2 teaspoons olive oil and rub with cut side of garlic clove. Sprinkle pizzas with half the Parmesan cheese and minced garlic. Arrange red and yellow tomato slices evenly over each pizza, then top with mozzarella slices.
Return pizzas to grill, cover and grill for 3 to 5 more minutes until the crust is crisp and cheese is melted.
Remove pizzas, sprinkle with basil and enjoy immediately.