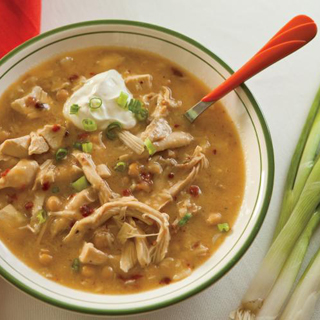 The slow cooker works well melding the flavors of leftover chicken, beans, fresh herbs and seasonings for a simple white chicken chili.
Makes:

6 servings

Prep Time:

10-15 minutes

Cook Time:

6-8 hours

Difficulty Rating:

Easy



Nutrition Highlights:

Slash the sodium up to 45% in the beans by draining and rinsing thoroughly before using.



Recipe Created By: Charlyn Fargo
Recipe From: Illinois Partners
Ingredients
2 cups leftover or rotisserie chicken
1 bay leaf
1 tablespoon canola oil
6 cups chicken stock (leftover or canned)
2 cans (14.5 ounces each) great northern beans
1 large yellow onion, finely chopped
salt and freshly ground pepper
3 cloves garlic, minced
2 tablespoons chili powder
1 ½ tablespoons ground cumin
¼-½ teaspoon cayenne pepper, optional
6 green onions, finely chopped
⅓ cup fresh cilantro, coarsely chopped
sour cream for garnish, optional
Instructions
In a large, heavy frying pan over medium heat, add 1 tablespoon canola oil and the chicken. Brown chicken slightly to bring out the flavor. Add the onion, 1 teaspoon salt, several grinds of pepper and sauté until the onion is soft. Add the garlic, chili powder, cumin and cayenne to taste, and stir together for 2 to 3 minutes to release the flavors.
Transfer contents to the slow cooker. Add the chicken stock, beans and bay leaf. Turn slow cooker on high and let cook for 6 to 8 hours.
Discard bay leaves. Ladle the chili into bowls. Top each serving with a dollop of sour cream and garnish with green onions and cilantro.
Tips & Notes
Use the leftovers from our Slow Cooker Roast Chicken recipe to make this chili, or buy pre-cooked rotisserie chicken from your grocery store to save time.