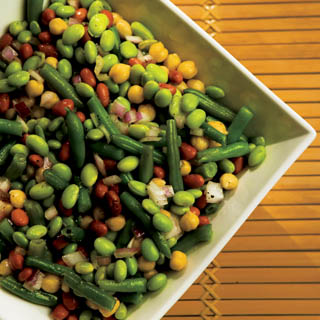 Garden-fresh green beans and edamame (green sweet soybeans) star in a traditional four-bean salad with an Asian twist.
Makes:

9 cups (12 servings of ¾ cup each)

Prep Time:

10 minutes

Cook Time:

5 minutes

Difficulty Rating:

Easy



Nutrition Highlights: Beans are rich in protein, fiber, potassium and antioxidants.



Recipe Created By: Kim Galeaz
Ingredients
1 pound fresh green beans, trimmed and cut into 1- to 1½ -inch pieces (roughly 3 ½ cups cut pieces)
2 cups (one 12-ounce bag) frozen shelled edamame, thawed, or fresh ready-to-eat edamame
1 can (15-16 ounces) dark red kidney beans, well drained and rinsed
1 can (15-16 ounces) garbanzo beans, well drained and rinsed
¾ cup red onion, chopped
⅔ cup rice vinegar
⅓ cup canola oil
⅔ cup granulated sugar
½ teaspoon kosher salt
½ teaspoon ground black pepper
Instructions
Place cut green beans in a glass bowl or pie plate, cover and microwave on high until crisp-tender, about 2 to 3 minutes.
Place edamame in separate glass bowl and microwave 1 minute.
In a large bowl, combine green beans, edamame, kidney beans, garbanzo beans and red onion, tossing lightly.
Whisk rice vinegar, canola oil, sugar, salt and pepper in a separate small bowl until thoroughly blended.
Pour dressing over bean-onion mixture and stir lightly to coat all ingredients.
Enjoy immediately. Refrigerate leftovers in tightly covered container.
Nutrition Facts (per serving): Calories – 150, Fat – 7.4g, Dietary Fiber – 2.2g, Protein – 3.3g, Vitamin C – 16%.
**Nutrition information is calculated using an online calorie calculator. Variations may exist. Values are based on a 2,000-calorie diet.
Tips & Notes
This big-batch salad still tastes terrific after several days in the refrigerator, but the green beans and edamame will slightly lose their vivid green color. Slash the sodium (salt) in the beans  up to 45 percent in them by draining and rinsing thoroughly.