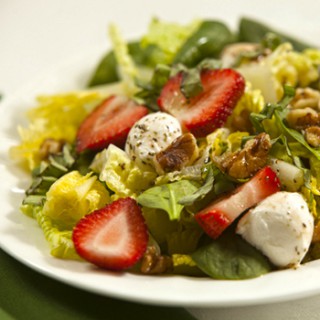 Fresh, in-season strawberries and spinach accompany crunchy walnuts and mozzarella cheese in this refreshing salad.
Makes:

4 servings

Prep Time:

10 minutes

Difficulty Rating:

Easy



Nutrition Highlights:

Strawberries contain nutrients to support brain and heart health.



Recipe Created By: Charlyn Fargo
Recipe From: Illinois Partners
Ingredients
¼ cup olive oil

2 tablespoons balsamic vinegar
¼ teaspoon salt
¼ teaspoon freshly ground black pepper
1 teaspoon Italian seasoning
1 hearts of romaine lettuce, cut up or torn into bite-sized pieces (3 cups)
3 cups fresh spinach
2 cups (1 pint) fresh strawberries, hulled, cleaned and sliced
¾ cup (6 ounces) part-skim mozzarella cheese, sliced
½ cup lightly packed fresh basil leaves, cut into ribbons
¼ cup (2 ounces) walnuts, broken into small pieces
Instructions
In a small bowl, whisk together the oil, vinegar, salt, pepper and Italian seasoning. 

Place the lettuce and spinach in a large bowl and toss with half the dressing. In a separate bowl, toss the strawberries with the remaining dressing.
Add the strawberries, cheese and walnuts to the salad.
Sprinkle the basil ribbons on top.