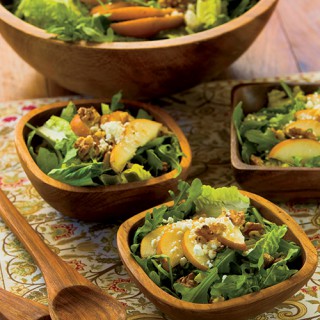 Crunchy walnuts, creamy goat cheese and juicy pears combine to give this salad great flavor.
Makes:

4 servings of 3 cups

Prep Time:

20 minutes

Difficulty Rating:

Easy



Nutrition Highlights:

Pears are rich in cholesterol-lowering fiber and epicatechin, an antioxidant combating the negative effects of aging.



Recipe Created By: Charlyn Fargo
Recipe From: Illinois Partners
Ingredients
½ cup walnuts
3 tablespoons extra-virgin olive oil
1 tablespoon fresh lemon juice
3 cups loosely packed fresh spinach, torn into bite-size pieces
1 ½ cups loosely packed romaine lettuce, torn into bite-size pieces
1 ½ cups loosely packed arugula, torn into bite-size pieces
1 Bosc pear, cored and thinly sliced
3 ounces reduced-fat plain goat cheese
salt and freshly ground pepper, to taste
Instructions
Preheat oven to 275 degrees.
Spread walnuts on a baking tray and bake until fragrant and lightly browned, about 10 minutes. Roughly chop nuts.
Place oil, lemon juice and a pinch of salt and pepper in a jar with a lid. Close tightly and shake vigorously to combine.