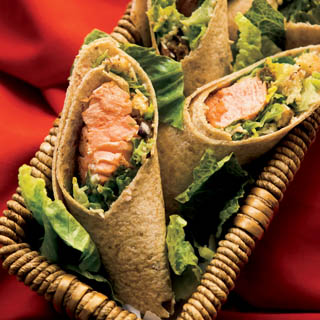 Whole-wheat wraps filled with flavorful fish and fresh lettuce are perfect for a picnic.
Ingredients
1 pound salmon fillet, cut into 1 1/4-inch strips
olive oil
salt and pepper
4 cups summer romaine lettuce torn into bite-size pieces
¼ cup Caesar dressing
2 tablespoons grated Parmesan cheese
¾ cup croutons
4 whole-grain wraps
Instructions
Brush salmon strips with olive oil and sprinkle lightly with salt and pepper.
Grill salmon pieces on well-oiled medium hot grill just until done, approximately 5 minutes.
Toss lettuce with dressing, cheese and croutons.
Place 1 cup of salad mixture in the center of 1 wrap. Top with 3 to 4 salmon strips. Fold in sides, then roll up like a burrito. Cut in half to serve.
Repeat to make 4 wraps.
Nutrition Facts (per serving): Calories – 401, Fat –19.5g, Dietary Fiber – 2.2g, Protein –32.9g, Vitamin A – 10%, Vitamin C – 10%, Calcium – 16%.
**Nutrition information is calculated using an online calorie calculator. Variations may exist. Values are based on a 2,000-calorie diet.
Tips & Notes
• Chicken also works great in these wraps!
• Use a low-fat Caesar dressing to cut calories and reduce fat.