Fourth-generation family farmer Joe Derrick of Johnston is a perfect example of the vital economic connection between the crop and animal industries in South Carolina.
Most of Derrick's crops are sold for use as livestock and poultry feed, and he uses some to feed his own herd of 160 beef cattle. Meanwhile, his son needs feed for his four broiler houses. Fortunately, in 2012, the father-son team harvested their best corn crop in five years.
Woody Green used to grow cotton, tobacco and vegetables on his family farm in Lynchburg. But today, thanks to greater market demand and reduced labor needs, the sixth-generation row crop farmer is turning to corn, soybeans and wheat.
"We're fortunate here in eastern South Carolina to have a fairly good number of feed mills in the area," Green says, naming mills that produce feed for chickens, turkeys, quail and hogs. "That's what makes us viable."
Corn, soybeans and wheat rank among South Carolina's top 10 commodities. From 2010 to 2012, annual cash receipts averaged $161.6 million for corn, $130.8 million for soybeans and $60.8 million for wheat, according to the USDA Economic Research Service. High crop values in 2012 boosted those averages.
Yet the success of South Carolina's row crops is inextricably linked to the success of the animal agriculture sector. This relationship extends beyond South Carolina, says Jay Crouch, educational director with the South Carolina Corn and Soybean Association.
"Nationwide, it would be difficult for one industry to survive without the other, if not impossible," he says.
Frank Strickland agrees. Thanks to his hogs, which thrive on feed produced from South Carolina crops, he can provide for his family. Pork production has provided a reliable revenue stream for the farmer, allowing his farm's land base to expand while supporting his family's rural South Carolina heritage – and the local economy.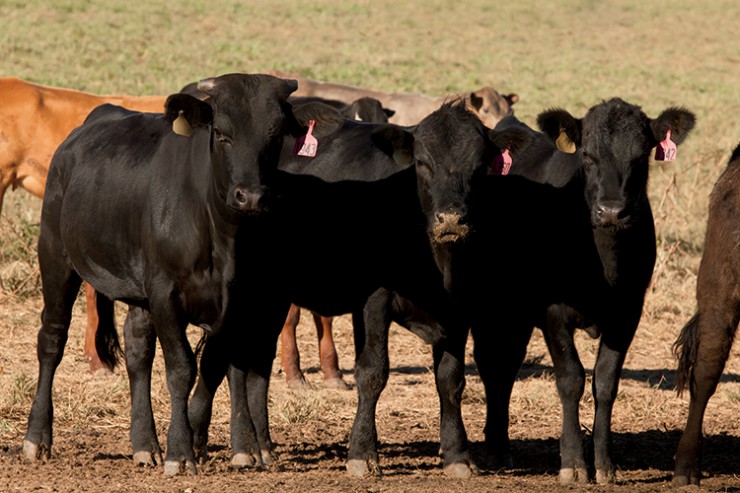 "We buy our vehicles, our equipment and we're sending our kids to college – the farm is helping pay for all of that," says Strickland, whose family invested $500,000 to build pig nurseries in the late 1990s.
The story resonates throughout the state, where farm families remain rooted in South Carolina soils and vested in animal agriculture. The state's farmers care for about 240,000 pigs, 355,000 cattle and calves, 12 million turkeys and nearly 223 million broilers, according to the National Agricultural Statistics Service. Those animals come full circle with the state's crop production, which includes close to a million combined acres of corn, wheat and soybeans.
That circle also affects South Carolina's economy.
"Animal agriculture returns billions of dollars every year to our state economy," says Stephanie Sox, executive director of the South Carolina Soybean Board. "Not only that, animal agriculture also provides thousands of jobs from farm to plate." Animal agriculture employs 15,665 people in South Carolina and generates $2.2 billion, Sox reports. Animal agriculture remains the No. 1 consumer of the state's grains with a larger demand than the state's farmers alone can produce.
Livestock, poultry and livestock products accounted for 53 percent of the state's agricultural cash receipts in 2012, according to the U.S. Department of Agriculture Economic Research Service. Broilers and turkeys alone, the state's top two commodities, accounted for nearly 39 percent of those receipts.
Yet the state's robust poultry industry also includes specialty birds, such as pigeons, squab and quail. For instance, Manchester Farms in Columbia is the oldest and most respected producer of farm-raised quail in the United States. The 40-year second-generation family business employs close to 200 people to provide processed quail for restaurants and retail distribution, according to owner Brittney Miller.
The farm distributes its products throughout the continental United States and maintains a small market overseas. Miller believes the state's animal agriculture industry has potential to make a bigger impact on South Carolina.
"I believe when you look at surrounding states and look at dollars of agriculture per capita in North Carolina and Georgia, it is higher partly because of the animal industry," Miller says. "We have the land, a good economy and our climate is conducive for a strong industry."