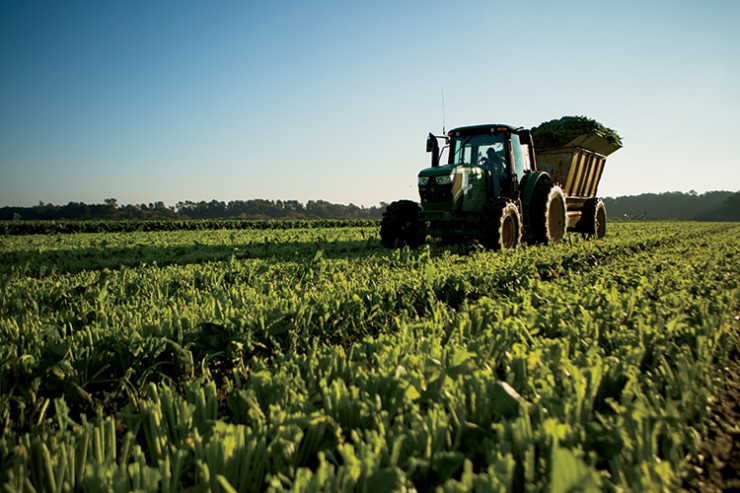 Large or small, organic or conventional, produce farming in South Carolina is defined by diversity, innovation and quality.
McCall Farms in Effingham, one of the largest agribusiness operations in the state, harvests mechanically and utilizes satellite technology to measure heat units to determine optimum ripeness. Meanwhile, at the other end of the spectrum, Black Pearl Farms harvests by hand and follows organic practices. Very different operations, but the end result is the same: customer-pleasing products.
Dating back to 1838, McCall Farms (owned by Henry and Marion Swink, who are joined in business by Henry's sons McCall and Woody) is a farming, canning and distribution company specializing in vegetables and fruits under brands including Margaret Holmes, Glory, Peanut Patch, Greer, Osage and Lord Chesterfield, and many private labels. In addition, five Hispanic products marketed under the Garcia label have been introduced.
The Margaret Holmes and Glory brands illustrate how McCall Farms seized a market opportunity and adapted to consumers' changing tastes in canned vegetables. The canned-vegetable market was declining, Woody Swink says, but adding Southern flavor and creating something consumers could open, heat and serve helped bring back the market.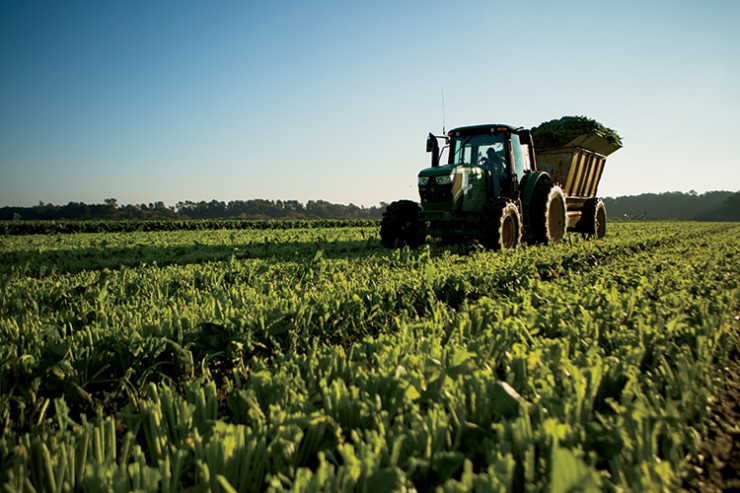 "We are offering the freshest quality," Swink says. "Our goal is to get the produce in the cans in less than 18 hours from harvesting from the field. Doing that creates a far superior taste and a more nutrientrich product. It's about quality and freshness, but our products are also about taste. We make sure we put the best-tasting food in today's busy households. Our products are like those recipes mothers and grandmothers cook. What we are doing with Glory and Margaret Holmes is recalling traditional family cooking and recipes."
McCall brands can be found in all major grocery chains throughout the Southeast and other regions across the country.
McCall Farms grows collards and cabbage and contracts with more than 50 farms up and down the Eastern Seaboard to meet the needs of the canning operation. South Carolina farmers grow 70 percent of the produce canned by McCall's, including peaches, peanuts, greens and cabbage.
"We're using GPS technology to navigate up and down the rows to plow, harvest and spray," Swink says. "Farming has certainly changed from what it once was."
That technology helps McCall Farms preserve the land for future generations.
Good stewardship is also the focus at Black Pearl Farms, which was founded not long after David Anderson picked some wild blueberries while walking his land in Branchville. The ripe berries were the best he ever tasted, and Anderson saw a market opportunity in growing and selling organic blueberries. The farm is Certified Organic by Clemson University's Department of Plant Industry.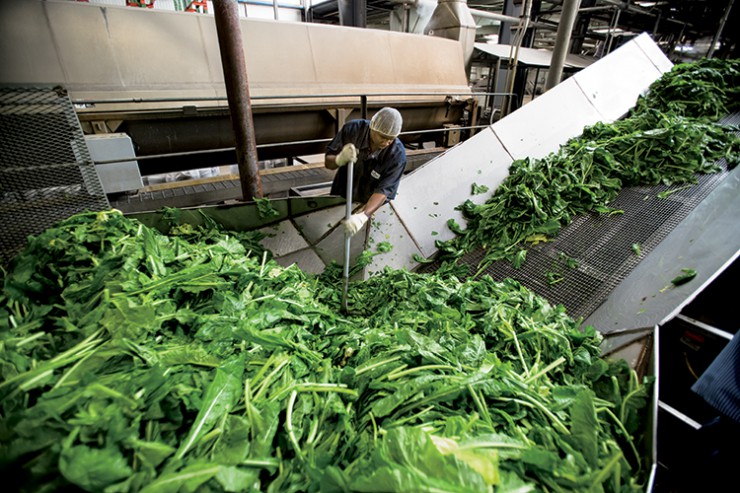 "I wanted our product to stand out from the competition," Anderson says. "We really looked at this operation from a marketing perspective, and I hope I'm helping other people to think about farming in the same way. In farming, just like with any other business, we need to find niches that no one else fills."
Today, Anderson farms more than 15 acres of blueberry bushes, with plans to expand up to 30 acres. Typically, an acre of organic blueberry bushes produces about 6,000 pounds of fruit. Black Pearl Farms blueberries can be found in Piggly Wiggly, Newton Farms and Whole Foods. Some 20 restaurants in the region also purchase the berries.
"The blueberries grown on Black Pearl Farms are as natural today as they were 200 years ago," Anderson says. "We're focused on using renewable resources, conserving soil and water, taking advantage of the natural climate and preserving the harmonious biodiversity surrounding the river."
Black Pearl also focuses on taste. "We want to provide the freshest, sweetest and juiciest blueberries while protecting their natural environment for future generations," he says. "We take care of the good stuff already in the soil. We work to put the micronutrients back in the ground so the blueberries will flourish."
That same commitment to growing top quality products while practicing conservation and stewardship is shared by McCall Farms and all South Carolina farmers.