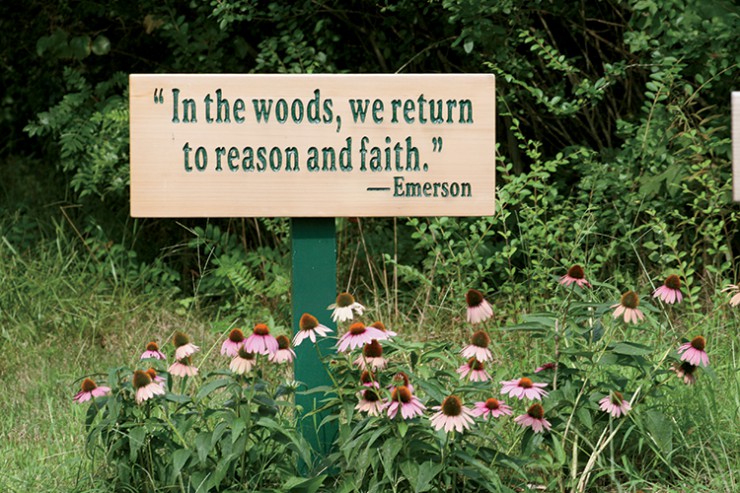 The farms are different – one grows trees and the other crops and turfgrass – but the farmers have a lot in common. Both are good stewards of their land and natural resources, and both have developed key partnerships with state agencies focused on conservation. Joanna Angle says farming is all about opportunities, and becoming a tree farmer was an opportunity for her to reinvent herself and to do something meaningful with her land. For Edwin Dargan, farming is a family tradition he wants to pass along to his son and grandchildren. Both say that having a positive impact on the environment is as much of a mission for them as making a living off their land.
"Tree farming is good for the environment and good for the community," says Angle, a partner in Cedarleaf Farm with Dr. W.D. Altman. "The trees we have planted will help improve air quality for decades, while providing food for wildlife. Our management plan has helped improve wildlife habitat by creating a year-round water source, corridors and sheltering windrows and native grasses."
For the community, tree farming creates an outdoor classroom for environmental education and recreational nature trails. The farm also impacts the economy, both locally and globally.
Angle's is a Cinderella story. In 2001 she began transforming 65 acres of overgrown, unmanaged, naturally generated mixed woods in Chester to become South Carolina's Tree Farm of the Year in 2012.
She relied on forestry and conservation experts as mentors as she developed a Forest Stewardship Plan. The first step was to access the woods. In a carefully supervised way, the woods were thinned and 3 miles of roads, trails and firebreaks were developed. With help from the South Carolina Forestry Commission's cost-share program, Angle planted 500 white oaks, followed by a mix of 430 other hardwoods. The second phase of the cost-share project involved planting 2,000 'Attaway' lespedezas along the field edges as part of an effort to restore quail habitat.
Over the next decade, the plan was gradually expanded. Food-bearing trees, including American beautyberry and persimmon, were planted to support wildlife and honeybees were added to help everything on the farm grow more successfully. Other key conservation actions taken at Cedarleaf include:
• With USDA assistance, former coastal bermuda horse pastures have been converted into three acres of native warm season grasses and another 2.5 acres into a pollinator plot.
•  A vernal pond, fed by rain and a wet-weather spring, has been created and includes a floating island made from used plastic water bottles. Pileated woodpeckers nest in a snag beside the pond and songbirds make nests in the more than 80 boxes placed throughout the farm.
Angle's primary goal is to create a legacy forest, one that will be cleaning the air and feeding/sheltering wildlife through the next century and beyond. Dargan has a similar plan and has placed his farm in a land trust. "I want to make sure our land continues to be a farm in the future," he says.
Dargan Farms of Darlington is a sixth generation operation that grows corn, cotton, wheat, soybeans, rye and turfgrass.
He also strives to keep the land healthy and to conserve natural resources. Dargan uses a hydropneumatic system for watering that conserves energy by minimizing the need to run the pump motor, which turns on only when the tank pressure drops to a preset level. For conservation tillage, he uses a coil packer, which helps retain moisture by firming and sealing the seed bed. The coil packer doesn't pulverize the soil surface, and the herringbone pattern left by the packer reduces wind and water erosion.
Working with USDA and the South Carolina Department of Agriculture, Dargan has created wildlife plots and a waterfowl impoundment on 10 acres. All told, Dargan has 1,700 of his 2,700 acres in a conservation program.
"It's important for us to take care of the land," he says. "I think most farmers feel that way. We support our families from our land and want to do that for years to come."