This homemade chocolate candy is made in the slow-cooker. It's a perfect gift idea or holiday party treat.
These sweet apricot thumbprint cookies are perfect for your next party or shower.
Try this White Chocolate Popcorn Crunch Recipe from the Popcorn Board, featuring cranberries and almonds.
This delicious white cake, with a subtle almond flavor, was one of Mary Todd Lincoln's specialties.
Savory herbs combine with the sweet-sour flavors of lemon, lime and orange for a delicious twist on your average cookie.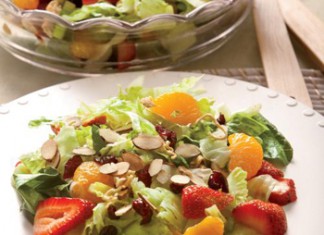 A fresh salad with an Asian-inspired dressing featuring peanut oil and red pepper sauce. Strawberries and mandarin oranges add sweet flavor, while ramen noodles provide a satisfying crunch.
This simple but delicious crumble featuring fresh pears and dried cranberries will be a welcome addition to your holiday table.
A delicious on-the-go breakfast or healthy midday snack for the kids. My 2 ½ year old says they taste like blueberry pie – yum!