Use the fall-harvested cranberries in this delicious caramel corn recipe from The Popcorn Board. It is an addictive sweet treat you'll love having around, making any occasion festive.
Created by The Popcorn Board, these popcorn clusters are bursting with sweet, nutty flavors that are perfect for entertaining a group, giving as a gift or just enjoying at home.
Learn how to make almond biscotti to share with friends or enjoy with morning coffee.
Summery chicken salad with a chow mein noodle crunch.
Bok choy and ramen noodles add Chinese flair to this salad.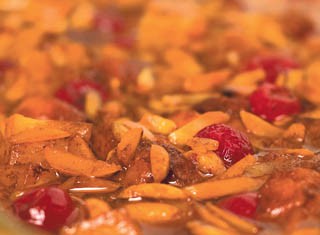 Combine sliced peaches, sliced pears, apricots, pineapple and more for a sweet, fruity dish.
Light sour cream and low-fat cream cheese allow for a healthier approach to fruity coffeecake.
This shortbread cookie recipe calls for almond flour and is decorated with almond slivers.