A tasty and unexpected way to use apples in a sweet dessert.
Shallots and horseradish add flavor to crisp apples and cabbage in this flavorful side dish.
A signature dish from Carmon's Restaurant in Champaign, Illinois.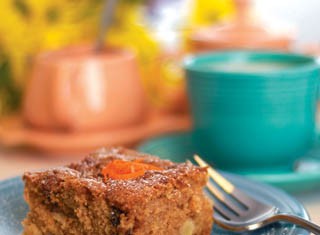 Prepare this apple-cinnamon coffeecake at night and pop it in the oven the next morning for a breakfast treat.
This onion apple chutney makes a delicious addition to a wide variety of dishes.
The strong flavor of blue cheese is softened by sweet Red Delicious apples, along with celery, walnuts and a Dijon dressing for this sensational salad.
These sweet summer fruit turnovers dusted with cinnamon get a kick from cayenne and whiskey.
This cinnamon-rich cake can be a Christmas treat or enjoyed any time of the year.