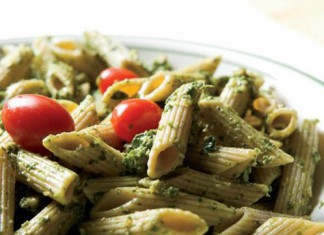 Combine in-season spinach leaves with peppery arugula and walnuts for an earthy, less oily version of pesto.
Mix any greens together with a citrus vinaigrette, snow peas, grapes and feta for a sweet, simple salad.
Tangy goat cheese and sweet peppers complement hearty lamb on this tasty pizza.
Here's a primer on some new greens and old favorites – arugula, spinach and kale – including nutritional benefits and recipes.
The refreshing salad is simple and satisfying, but pine nut-crusted goat cheese and champagne vinaigrette adds a little kick to the dish.