Looking for creative ways to repurpose food waste? Try this easy planting project to grow your own avocado tree at home.
Find facts about avocados, including nutrition information, how to pick out an avocado and how to keep them from turning brown, along with three tasty avocado recipes.
Choosing the perfect avocado starts before you even go to the grocery store! Learn to pick the best one every time depending on when you plan on eating it.
Nothing like a fried egg to top off a delicious burger.
Zesty chipotle mayo, lots of veggies and turkey make for a tasty, healthy wrap.
Fresh zucchini and carrot "noodles" act as the base of this vegetable salad.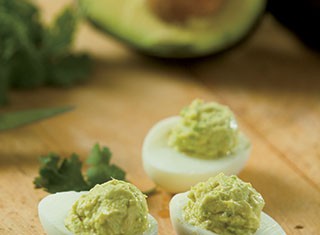 Give deviled eggs some unexpected, yet delicious flavor with fresh avocado and lime juice.
Almost more like a frozen custard, you don't need an ice cream maker to enjoy this cool, refreshing summer dessert that pairs avocado and lemon.