Choosing the perfect avocado starts before you even go to the grocery store! Learn to pick the best one every time depending on when you plan on eating it.
Nothing like a fried egg to top off a delicious burger.
Zesty chipotle mayo, lots of veggies and turkey make for a tasty, healthy wrap.
Fresh zucchini and carrot "noodles" act as the base of this vegetable salad.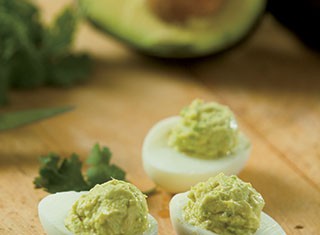 Give deviled eggs some unexpected, yet delicious flavor with fresh avocado and lime juice.
Almost more like a frozen custard, you don't need an ice cream maker to enjoy this cool, refreshing summer dessert that pairs avocado and lemon.
This creamy cold cucumber soup uses avocado, as well as mint, parsley, yogurt and buttermilk, to make a refreshing green summer soup that requires no cooking.
This no-cook summer corn chowder is a slightly chunky, grainy-textured soup due to the corn. If you like creamed corn, it'll remind you of that.