Use this tasty Bacon Jam as a topping for toast or Corn Fritters.
Crisp iceberg lettuce is the perfect base for creamy blue cheese, bacon, eggs and homemade dressing.
This pizza is sure to become a quick family hit.
Sweet potatoes wrapped in bacon are even better when grilled.
Sweet and spicy, these pineapple-bacon bites are surefire crowd-pleasers.
The Oklahoma Pork Council hosts the Bacon and Bourbon dinner each year, along with other fun events, to promote the important commodity.
What's better than strawberry french toast? How about strawberry french toast with bacon? In sandwich form?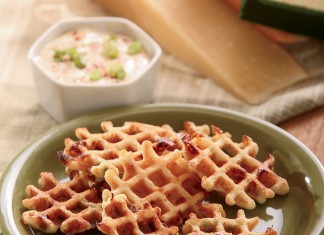 These bite-sized waffles put a twist on the traditional breakfast item. Featuring bacon and chives, serve them as a tasty appetizer.