This pizza is sure to become a quick family hit.
Sweet potatoes wrapped in bacon are even better when grilled.
Sweet and spicy, these pineapple-bacon bites are surefire crowd-pleasers.
The Oklahoma Pork Council hosts the Bacon and Bourbon dinner each year, along with other fun events, to promote the important commodity.
What's better than strawberry french toast? How about strawberry french toast with bacon? In sandwich form?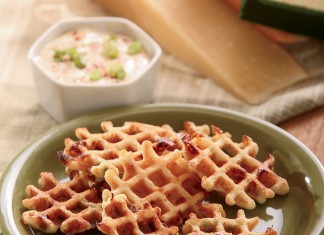 These bite-sized waffles put a twist on the traditional breakfast item. Featuring bacon and chives, serve them as a tasty appetizer.
Fresh and filling, this Brussels sprouts side dish is made better with bacon.
These mini burgers get a burst of sweet and salty flavor from fresh apples and thick-cut bacon.