The Oklahoma Pork Council hosts the Bacon and Bourbon dinner each year, along with other fun events, to promote the important commodity.
What's better than strawberry french toast? How about strawberry french toast with bacon? In sandwich form?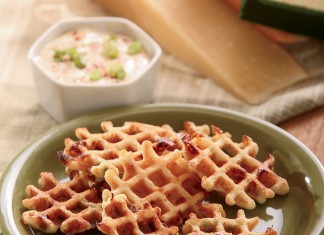 These bite-sized waffles put a twist on the traditional breakfast item. Featuring bacon and chives, serve them as a tasty appetizer.
Fresh and filling, this Brussels sprouts side dish is made better with bacon.
These mini burgers get a burst of sweet and salty flavor from fresh apples and thick-cut bacon.
A medley of roasted root vegetables serves as the base for this delicious honey-sage pork dish.
Try this twist on traditional potato salad that includes lemon, basil and bacon for your next picnic or potluck.
Topped with thick-cut bacon, cheese and sour cream, these patriotic nachos are the perfect picnic dish.