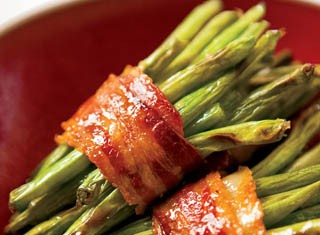 Anyone will eat their greens when they come wrapped in bacon, like in this easy dinner recipe.
Crisp bacon, cheddar cheese and eggs combine in a hearty casserole perfect for a holiday breakfast.
This hearty breakfast quiche, filled with meat, cheese and eggs, is sure to satisfy.
Our sweet potato casserole goes the opposite direction of the typical requisites of marshmallows and brown sugar. Instead, this savory side dish gets its flavor from bacon, rosemary, shallots (a variety of onion) and Gruyere cheese.
A warm and bubbly cheesy dip, this party-pleasing recipe features bacon and turnip greens.
With sweet and savory elements, this hearty stuffing complements a holiday turkey perfectly.
Has pumpkin reached bacon-level popularity? A recent article suggests that the orange-colored gourd is close.
Impress your friends with these tasty popovers featuring sweet apples and salty bacon.