Juicy tomatoes, garden-fresh basil and creamy goat cheese combine in this simple tartine. Served on multigrain bread, this healthy dish makes the perfect summer appetizer or snack.
Cool and refreshing Chilled Pea Soup is a perfect welcome to spring.
A hearty chowder is cozy for cool nights.
Enjoy the quintessential soup combo – creamy tomato soup and grilled cheese – all in the same bowl. Skip buying canned soup and simmer your own in less than 20 minutes.
Fresh zucchini takes the place of pasta in this summer salad.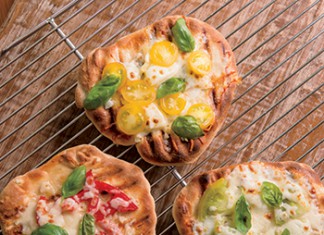 Colorful tomatoes and mozzarella cheese are highlighted by fresh basil in this perfect summer pizza recipe.
Have more basil growing in your garden than you know what to do with? Learn how to freeze fresh pesto to make your basil harvest go further!
Healthy and delicious, this summer side dish will disappear fast.