Hand-held asparagus frittatas are a healthy option for breakfast on the go.
Delicious sausages served with onions and peppers make for a hearty meal.
Apples are the star of this spicy, flavorful, fall salsa.
Put a twist on traditional Gazpacho by using fresh yellow tomatoes.
This traditional Israeli dish is a hearty breakfast packed with flavor.
Tasty chicken tacos are made even better with a spicy horseradish-lime sauce.
Simple grilled chicken thighs are topped with a sweet-spicy blueberry salsa for a tasty summer meal.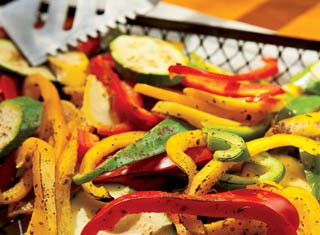 Fire up the grill for fresh vegetables. This recipe is so versatile you can use any combination of veggies you find available.