Are you intimidated by baking homemade bread? Get some of our top-notch tips. From preparation to baking and storage, we'll guide you through the process.
Tomatoes, garlic and basil combine for a flavorful chunky tomato sauce that pairs nicely with al dente spaghetti or your other favorite pasta.
Grains of Montana Restaurant and Bakery offers sustainable, local delicacies.
Simple and flavorful, homemade croutons are a welcome addition to any salad.
Warm and fluffy, homemade dinner rolls will quickly become a family favorite.
Serve a sweet breakfast with this french toast recipe, featuring salted caramel and bananas.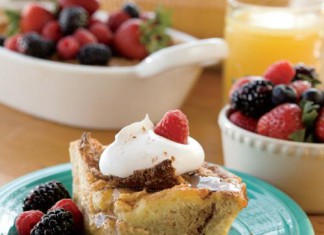 Prepare the batter for this simple french toast recipe the night before, and just bake the casserole in the morning before topping with berries, syrup and whipped cream.
Sweeten your morning by adding honey to this classic breakfast dish.