Eat with your hands this summer. Discover 7 delicious finger-food recipes perfect for the season.
Nothing like a fried egg to top off a delicious burger.
Enjoy the taste of New Mexico with a hearty Green Chile Cheeseburger.
These mini burgers get a burst of sweet and salty flavor from fresh apples and thick-cut bacon.
Juicy pork burgers are a flavorful addition to your next cookout.
These burgers present a spicy, yet pleasant surprise with a flavorful horseradish stuffing.
Dust off the grill for these extremely flavorful BLT burgers, featuring a sweet onion mayonnaise.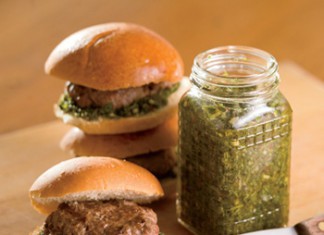 Try these South American-inspired sliders, featuring an herb-filled chimichurri sauce, at your next cookout.