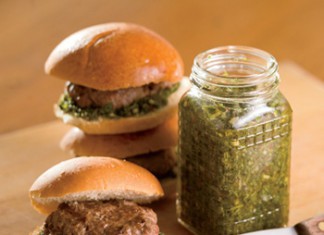 Try these South American-inspired sliders, featuring an herb-filled chimichurri sauce, at your next cookout.
These Korean pork sliders feature soy sauce, ginger, Asian pear and Chinese cabbage.
This take on the classic beef hamburger features a creamy beer-cheese sauce to make the perfect cheeseburger.
May is National Burger Month, so fire up the grill and let's get chewing on these burger fun facts.
There are few things more delicious — and more deep fried — than food at state fairs. Here are some of our favorite fair-inspired recipes.
Give your burgers some Asian flair by mixing ginger, Thai chili sauce, garlic, cilantro, green onions, soy sauce and lime into your lean ground beef before shaping the burger patties.
Fresh ginger, basil and Asian fish sauce spice up finely chopped fresh tuna.
A south-of-the-border burger, with added sizzle from a chipotle salsa – our suggestion, add sliced avocado for a perfect topping.