Small, hand-held pies are given a summery twist with cold chicken salad in a buttery crust.
There's no fooling around here – April is filled with awesome food holidays, including National Garlic Month, Grilled Cheese Month, Fresh Celery Month and more.
Sweet and crunchy, Blueberry Pecan Chicken Salad updates a classic with the taste of summer.
This sweet, creamy corn and potato chowder tastes fresh and hearty at the same time. It's a great vegetarian dish to serve as a side or main course.
With sweet and savory elements, this hearty stuffing complements a holiday turkey perfectly.
Scrumptious shrimp combines with celery, hard-boiled eggs and a variety of seasonings to make a chilled salad that will be the star of your next picnic.
The unexpected kick of curry powder combines with the sweetness of sugar for a delicious variation of fresh tomato soup.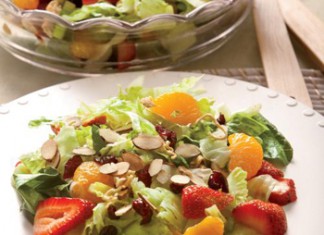 A fresh salad with an Asian-inspired dressing featuring peanut oil and red pepper sauce. Strawberries and mandarin oranges add sweet flavor, while ramen noodles provide a satisfying crunch.