Test our Beef Stew Cook-Off winner's best down-home beef stew recipe.
A combination of beef stew meat, onions, mushroom, white wine and a variety of herbs, this beef stew is best when served over rice.
Red onion, parsley and celery add some crunch to this deli staple.
A signature dish from Carmon's Restaurant in Champaign, Illinois.
The strong flavor of blue cheese is softened by sweet Red Delicious apples, along with celery, walnuts and a Dijon dressing for this sensational salad.
This quick, easy and satisfying turkey noodle soup utilizes leftover turkey and homemade stock, but you can also substitute chicken in the recipe.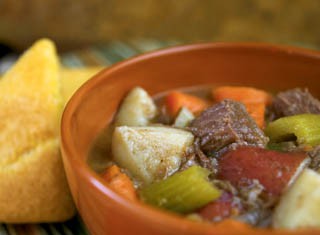 Chuck roast and a variety of spices add flavor and appeal to this wintertime favorite.
Artichoke hearts and lemon juice combine sweet and sour for a wonderful tasting soup.