Cheddar cheese, fresh veggies and salty bacon are a few of the layers in this Seven-Layer Salad.
This hearty quiche features spinach, mushrooms and two types of cheeses.
Enjoy the taste of New Mexico with a hearty Green Chile Cheeseburger.
Use Thanksgiving leftovers to make one delicious sandwich.
Get creative with the kids on these easy, healthy and tasty zucchini "boats."
Fresh vegetables and herbs combine for a healthy, hearty breakfast.
The perfect pizza for kids, tiny "trees" help them learn to eat their vegetables.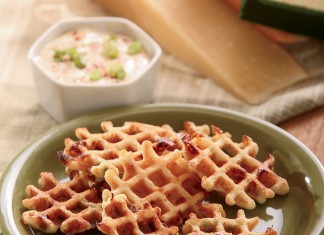 These bite-sized waffles put a twist on the traditional breakfast item. Featuring bacon and chives, serve them as a tasty appetizer.