Enjoy the quintessential soup combo – creamy tomato soup and grilled cheese – all in the same bowl. Skip buying canned soup and simmer your own in less than 20 minutes.
A 4-H member shares his prize-winning recipe for classic country cornbread dressing, perfect for Thanksgiving dinner.
A side dish of baked stuffed onions combines a pretty presentation with savory flavor, perfect for the holidays but just as good any time of the year.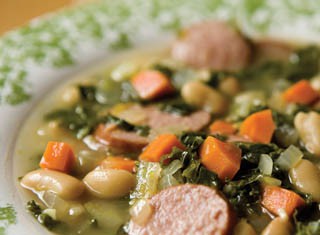 Cozy up with this savory seasonal soup that uses kale, a popular spring green.
Experience all the flavors of autumn in this smooth and filling vegetable soup.
This sweet, soothing autumn soup featuring pumpkin, mango and ginger has a little kick.
This healthier version of the classic creamy soup features fresh asparagus and a dash of nutmeg for flavor.
The unexpected kick of curry powder combines with the sweetness of sugar for a delicious variation of fresh tomato soup.