A classic crowd-pleaser, Garlic Mashed Potatoes are smooth, creamy and delicious.
Fresh, healthy carrots get a flavorful boost from orange juice and zest.
Tasty Parmesan breadcrumbs enhance hearty, healthy greens.
Parmesan cheese and spicy garlic amps up the flavor of this savory brussels sprouts side dish.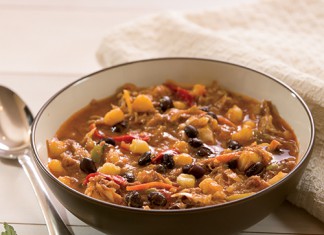 Give life to leftovers! Combine leftover barbecue with veggies and spices for a zesty, hearty soup.
Similar to minestrone, this stew swaps potatoes for the pasta and throws in some collards for a hearty blend.
Fresh green beans and asparagus meld together with Asian flavors to make a crowd-pleasing, healthy side dish.