From savory to spicy to a little bit sweet, warm up with a variety of soups, stews and chili recipes.
We've rounded up ten of our favorite tailgating recipes, perfect for afternoon or night football games.
Filling turkey and seasonal pumpkin are the star ingredients of this spicy, flavorful chili.
This sweet and savory variation on classic chili features turkey, sausage, sweet potatoes and garbanzo beans. Serve with cornbread and a green salad.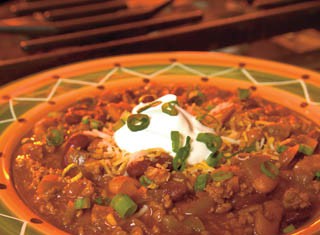 A classic, no-fuss chili recipe that gets down to the basics- pinto and kidney beans, savory garlic, pungent onions and sweet bell pepper.
The slow cooker works well melding the flavors of leftover chicken, beans, fresh herbs and seasonings for a simple white chicken chili.
This hearty chili recipe featuring chickpeas and lentils will warm you up on a cool night.
Celebrate Cook Something Bold and Pungent Day by making this aromatic dish. It is sure to excite your senses and make your home smell warm and comforting.