Tasty chive biscuits can be eaten on their own or used as the base for a biscuit sandwich.
Fresh herbs combine with Greek yogurt for a cool, tasty dip.
Take a break from potatoes and try mashed cauliflower as a tasty side dish.
Onions and apples come together for a delicious fall tart.
Perfect for parties (and kids!), these handheld meatloaf "cupcakes" come complete with mashed potato "frosting."
Sweet berries combine with tangy cheese for a tasty appetizer.
Fresh vegetables and herbs combine for a healthy, hearty breakfast.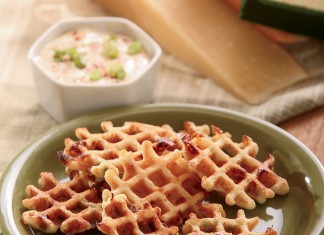 These bite-sized waffles put a twist on the traditional breakfast item. Featuring bacon and chives, serve them as a tasty appetizer.