You'll be ready to go a-wassailing with this hot toddy recipe that blends apple cider, orange juice and fall spices into a delicious warm beverage.
Sweet chocolate donuts (doughnuts?) get a little extra something with holiday spices.
Hearty and flavorful, serve this soup with a dollop of sour cream.
Put a new spin on classic carrot cake cupcakes with zesty candied ginger.
For a twist on the traditional pumpkin pie, try this similar dessert that is made with butternut squash.
This sweet, fruity glaze is perfect for a city ham.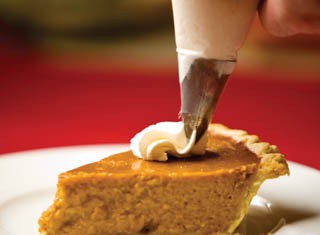 Our version of the holiday classic, pumpkin pie, calls for ginger, cloves and cinnamon.
This pumpkin bread recipe, named for the family friend who created it, can be given as a holiday gift, warmed for breakfast or enjoyed for dessert.