Collard Green Salad Rolls are easy to hold and delicious to eat. Packed with garden-fresh veggies and wrapped in collard greens instead of a flour tortilla, they make an excellent option for a healthy lunch or snack.
Fresh scallops pair perfectly with spring greens.
A classic spring side dish to serve with your Easter meal.
Eating greens doesn't have to be boring. Ditch the salad and try these 10 tasty and creative recipes to get your daily dose of leafy greens.
Brimming with nutritious veggies, Hearty Lentil Soup is perfect for warming up on a cold night.
This healthy, flavorful soup is perfect for battling winter colds.
Similar to minestrone, this stew swaps potatoes for the pasta and throws in some collards for a hearty blend.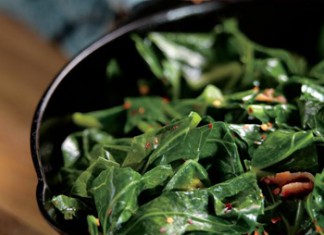 This simple recipe flavors up fresh collard greens by slow-boiling them in a mixture of sugar, ham hocks and crushed red pepper.