Lycopene-packed tomatoes take center stage in this dish, with cilantro, balsamic vinegar and onion enhancing their flavor.
Hearty lentils combine with chicken and garlic chili paste for a spicy, satisfying salad.
Go light, healthy and fresh with this simple salad featuring blueberries and cucumbers.
Heirloom tomatoes, cucumber and red onion combine for a tangy marinated side dish.
Juicy watermelon combines with garden herbs, bell peppers and cucumbers to create this summer soup that requires no cooking.
This creamy cold cucumber soup uses avocado, as well as mint, parsley, yogurt and buttermilk, to make a refreshing green summer soup that requires no cooking.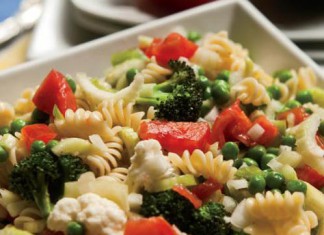 This sweet yet savory pasta salad calls for rotini noodles, fresh vegetables and a sweet cucumber vinaigrette.
The cucumbers in your garden are good for more than just delicious summer recipes. Here are 11 handy uses for the bountiful veggie.