Blend two flavors of the autumn season – butternut squash and apples – into a delicious soup recipe, then spice up the dish with curry.
Sweet grapes, crunchy almonds and curry powder give this chicken salad recipe an extra dose of flavor.
The unexpected kick of curry powder combines with the sweetness of sugar for a delicious variation of fresh tomato soup.
This chicken dish features a sweet marmalade glaze that balances out the curry flavor.
This barley dish is the newest fall comfort food with flavors like cranberry, curry and garlic.
A signature dish from Carmon's Restaurant in Champaign, Illinois.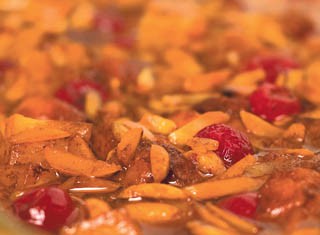 Combine sliced peaches, sliced pears, apricots, pineapple and more for a sweet, fruity dish.