Two favorite summer flavors, watermelon and tomato, mix with red onions, basil, lime juice and feta cheese for a fruit salad that tastes like summer.
This blueberry corn salad's sweet and savory honey-lime dressing gives a burst of fresh flavors to your taste buds, and it goes well with just about any grilled meat.
Seasonal fruit such as honeydew, cantaloupe, watermelon and grapes tastes even more refreshing splashed with a flavorful honey-lime-mint dressing for a sweet fruit salad.
Apples, pears and grapes star in this easy and healthy fruit salad.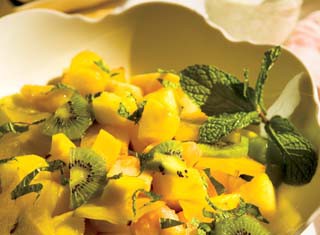 A fruit salad with in-season mango and pineapple showcases mint, both as a salad garnish and mixed in the creamy, mojito-inspired lime topping.
Go Greek with this watermelon salad recipe featuring tangy feta cheese and extra virgin olive oil.
Wow your family and friends with this simple yet spectacular fruit salad featuring apples, cherries and toasted pecans.
A fresh start or healthy finish to any meal, fresh mint and brown sugar add zest to this fresh fruit salad with strawberries and oranges.