Garlic Recipes and Articles About Garlic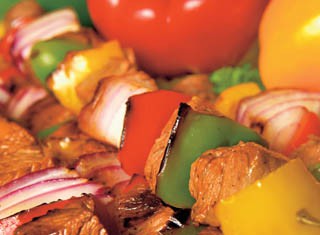 Marinade beef cubes overnight for a delicious grilling party, with grilled veggies and mushrooms to accompany.
This simple tomato sauce recipe can be used for pizza or pasta.
Roasted garlic, onions and tomatoes combine for a savory sauce that can be frozen for several months or used immediately.
Use this pesto to baste broiled or grilled fish or chicken, or serve it over pasta.
Artichoke hearts and lemon juice combine sweet and sour for a wonderful tasting soup.
A south-of-the-border burger, with added sizzle from a chipotle salsa – our suggestion, add sliced avocado for a perfect topping.
Use white tomatoes, white sweet peppers and Jaloro peppers for a unique spin on traditional salsa.