Garlic Recipes and Articles About Garlic
This summery, crowd-pleasing pasta dish utilizes fresh tomatoes and basil along with shrimp.
Ladle hot lemon butter sauce over chicken or your favorite dish.
Fresh bell peppers, zucchini, red onion and cherry tomatoes are grilled and then doused with thyme, garlic and balsamic vinegar for a tasty side dish.
Chicken, spinach, goat cheese and tomatoes make this an easy yet elegant dinner dish.
Try your hand at this company-worthy, beautifully sliceable meatloaf. It's like mom used to make, only better.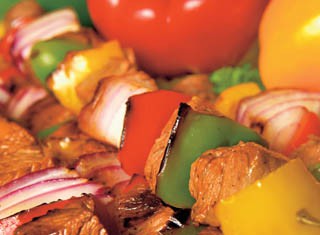 Marinade beef cubes overnight for a delicious grilling party, with grilled veggies and mushrooms to accompany.
This simple tomato sauce recipe can be used for pizza or pasta.
Roasted garlic, onions and tomatoes combine for a savory sauce that can be frozen for several months or used immediately.