Small, hand-held pies are given a summery twist with cold chicken salad in a buttery crust.
Fresh spring veggies are even more flavorful when charred with a cool, creamy dressing.
A classic crowd-pleaser, Garlic Mashed Potatoes are smooth, creamy and delicious.
Cool, refreshing dill sauce makes a flavorful topping for fresh salmon.
Amp up bland tuna salad with beans, pepper, parsley and a zesty lemon mayonnaise.
Add some Moroccan spice to ground chicken for flavorful sliders with a cool yogurt sauce.
This healthy breakfast smoothie recipe uses low-fat Greek yogurt and fresh fruit for a quick, on-the-go meal.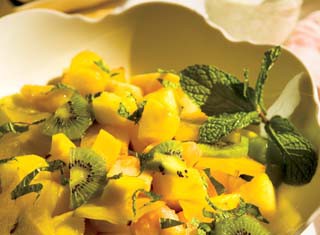 A fruit salad with in-season mango and pineapple showcases mint, both as a salad garnish and mixed in the creamy, mojito-inspired lime topping.