Green beans, wax beans, kidney beans and garbanzo beans are featured in this Four Bean Salad.
For your Easter dinner menu planning, consider these recipes. From Coca-Cola Country Ham recipe, to potato salads, vegetables and pies, these recipes will please the whole family.
Fresh green beans pair with crunchy walnuts and tangy red onion in this easy salad.
Fresh green beans and asparagus meld together with Asian flavors to make a crowd-pleasing, healthy side dish.
Welcome spring with fresh facts about green beans.
Planning your garden? Here are nine things you should grow this year.
The fresh fruit and vegetable combination is paired with a variety of fresh herbs, making it easy to stay healthy without sacrificing flavor.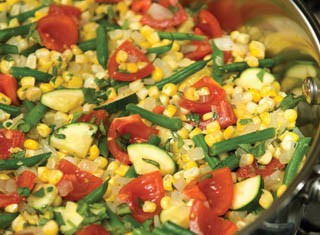 This summer dish's rich colors and farm-fresh ingredients of corn, zucchini, tomatoes and green beans serve up nicely with any entree.