Filling turkey and seasonal pumpkin are the star ingredients of this spicy, flavorful chili.
Classic enchiladas are topped with a creamy, spicy sauce, along with black olives and cheese, in this easy one-dish dinner recipe.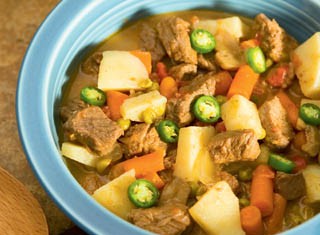 This beef stew recipe combines flavorful green chilies, ginger and top sirloin steak to create an impressionable meal.
Fill crescent rolls with cheese, green chilies, olives and hot pepper sauce for a spicy snack perfect for entertaining guests.
A south-of-the-border burger, with added sizzle from a chipotle salsa – our suggestion, add sliced avocado for a perfect topping.