This recipe for a slaw made from greens and fresh veggies is both tasty and chock-full of vitamins and minerals.
Horseradish-seasoned pork topped with a tangy orange marmalade.
This creamy cold cucumber soup uses avocado, as well as mint, parsley, yogurt and buttermilk, to make a refreshing green summer soup that requires no cooking.
Give your burgers some Asian flair by mixing ginger, Thai chili sauce, garlic, cilantro, green onions, soy sauce and lime into your lean ground beef before shaping the burger patties.
Summery chicken salad with a chow mein noodle crunch.
Bok choy and ramen noodles add Chinese flair to this salad.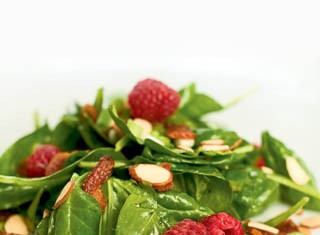 Enjoy this classic spinach salad with bacon crumbles and a sweet raspberry dressing.