Florida Keys Garden provides fresh greens to restaurants, grocery stores and many individual consumers.
Upgrade your backyard cookout menu this summer with 10 of our tastiest barbecue side dishes.
Eating greens doesn't have to be boring. Ditch the salad and try these 10 tasty and creative recipes to get your daily dose of leafy greens.
Tried and true pesto is made with lots of basil and pine nuts with olive oil, Parmesan, and garlic, but for these recipes, basil is exchanged with another dark leafy green, and expensive pine nuts are substituted with other kinds of nuts.
A twist on traditional lasagna, this mediterranean version features chicken instead of ground beef, feta cheese, black olives and grape tomatoes.
A spicy horseradish dressing adds zesty flavor to a healthy green salad.
Tasty Parmesan breadcrumbs enhance hearty, healthy greens.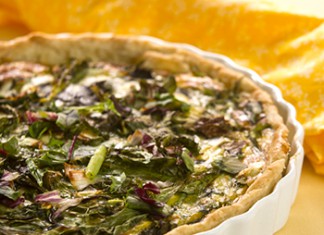 This breakfast tart, filled with country ham, spring greens and Gruyere cheese, is perfect for a family brunch or special occasion.